A friend just posted
this article
on Facebook, and I had to share. All rescuers are intimately familiar, unfortunately, with those racist bigots who only want to have 'purebred' dogs—yes, racist bigots; what else would you call someone who exhibits overt and shameless prejudice towards race, country of origin, or ancestry?
So... this happened in Brazil. One of these racist bigots was interested in adopting a dog—but it had to be a purebred, "preferably an English Cocker [Spaniel]", because she didn't like "vira latas" ('mutts') due to "aesthetic reasons".
(The story is in Portuguese, but I've translated, loosely, the gist here.)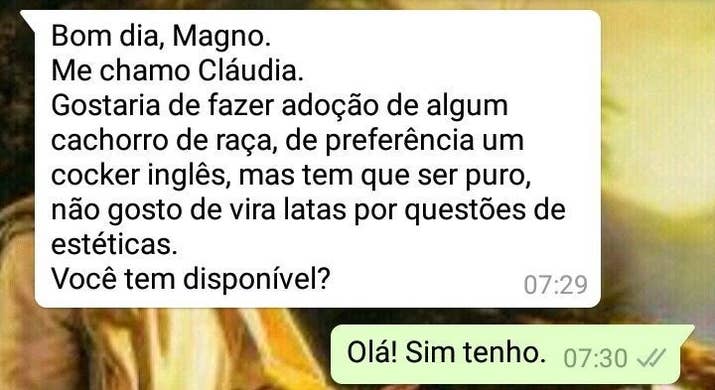 Magno's response, in green: "Hi! Yes, I do have one available."
Racist bigot Claudia, probably feeling all warm and fuzzy at the prospect of soon having her purebred puppy at home, goes on to ask what the adoption requirements are.
And that's when the dream shattered.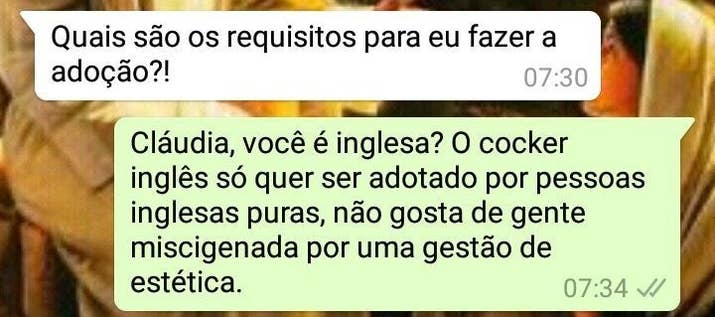 Magno: "Claudia, are you English? English Cockers [
sic
] only want to be adopted by people of pure English backgrounds, they don't like people of mixed ancestry due to a matter of aesthetics."
(Give me a second. I need to collect myself here.)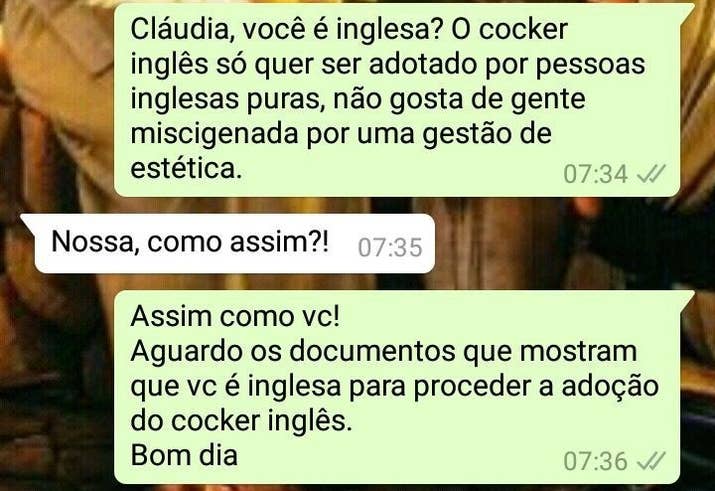 Understandably, Claudia is somewhat taken aback. Surprised, she replies, "Wow. What?!"
And Magno, hero that he is, replies, "Yeah, just like you! I'll be waiting to receive the documents that prove your English background in order to proceed with the adoption of the English Cocker. Good day."
I can't stop laughing. And the next time I get one of those racist bigots in my face about 'purebreds' and how mixed breeds can never match up, yadda yadda, I'll know
exactly
what to say.